Tours - Guided
Our guided group tours are led by our team of guides. You will have the chance to get to know like-minded people and share an unforgettable experience.
Our groups are always small (maximum 14), and we take care of every detail.
We focus on the individual requirements of each group. Our guides are professionals with extensive knowledge of the history and geography of Andalusia, backed by broad experience working with groups from a range of countries.
Unbeatable views, waterfalls, plenty of rock pools, narrow caves and tunnels that you have to crawl through or hang off the rock face, walking alongside the "acequias" dating back to Moorish times and, of course, the famous hanging bridges.
An excellent way to discover Granada and surroundings! Your guide will lead you trough the Albayzin and the Sacromonte with its historic cave-houses and after a picknick return through the green Valparaíso valley.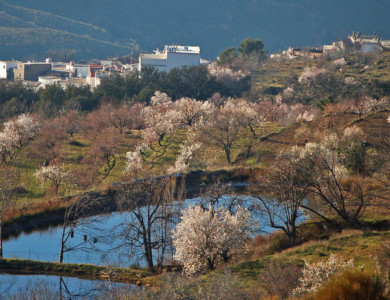 Yegen is a high, peaceful village (at 1,000m) with mild weather, south from Granada, home of Gerald Brenan. Here you will experience the true connection with the landscapes, people and trails of the Alpujarra.