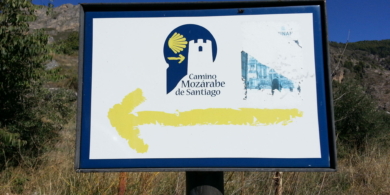 Pilgrims traditionally started their journey to Santiago de Compostela from their own home, so different Caminos (Ways) emerged over the…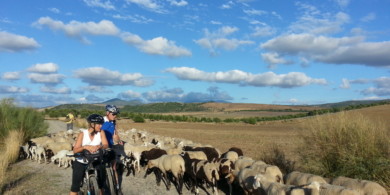 Do you know that you can contribute to the sustainable development of Andalusia's countryside? How? Simply by booking your next…

Our Self-guided Tours are designed for people looking for that extra privacy, and for adventurers who prefer to discover things for themselves… or simply for those who want to share the route with a special group of friends or as a couple. You can set your own pace, travelling without guides or other people who may have a different level of fitness to yours.
In this case we act as organisers, providing everything you need: maps, printed guides, GPS receiver with route data, reservations at charming rural accommodation, luggage transfer between accommodation, on-route assistance, bike hire. From the moment you arrive until the last day of your trip, we make sure you have everything you need…

Our guided group tours are led by our team of guides. You will have the chance to get to know like-minded people and share an unforgettable experience.
Our groups are always small (maximum 14), and we take care of every detail
We focus on the individual requirements of each group. Our guides are professionals with extensive knowledge of the history and geography of Andalusia, backed by broad experience working with groups from a range of countries.

Our getaways are short tours at unbeatable prices. They are usually weekend trips with a maximum duration of three days, staying at a charming rural hotel
This option is designed for the whole family, couples or people with little time available. These getaways are activity programmes that include daily outings combining hiking, biking, kids' activities, treasure hunts.
The only limit is your imagination
Our itineraries are inspired by ancient trails and by the illustrious travellers who once explored them. They are inspired by nature, by the history and culture of a small piece of the world which itself contains many different worlds: Andalusia. We invite travellers to come off the tarmac and get on their bikes or sling their rucksacks to share a unique and vital experience. On the way, we aim to show that economic progress and an improved quality of life in our villages are possible without causing any damage to tradition, identity or environment.
Our tours run on different routes: trails, old cattle routes, the remains of Roman roads, forest tracks, old, disused roads… They carry us all over Andalusia, on foot or by bike, from one village to the next, crossing regions and exploring nature reserves. And these tours are just a small example. The only limit is your imagination. We have documented more than 5,000 kilometers of interconnected routes so that you can design your own journey (region, stages, difficulty, by bike or on foot…).

We prepare everything for you…
Documentation
You will receive a roadbook with all necessary documentation as route descriptions, recommendations for lunch and dinner, what to visit, tips where to go for good flamenco, etc.
We use original maps with the route marked on it.
Equipment
We will handover our rental bikes according to your size, cleaned and revised by a professional bike shop. The bike has a pannier rack, so you can bring your own panniers or rent ours, and it will be delivered with a handle bar bag, a km counter, and an extra inner tube and repair kit. We can also provide helmets.
All our routes are designed and checked with care and GPS tracks of many tours are available for your personal use.
Our travelers say...
---
Discover the incredible heritage of Spain on foot or by bike. Itineraries inspired by nature, the history and culture of a small piece of the world which itself contains many different worlds: Andalusia.