Documentation and Equipment
What do you need for a self-guided cycling or hiking tour?
Documentation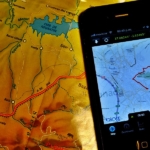 You will receive a roadbook with all necessary documentation as route descriptions, cultural information, recommendations for lunch and dinner, what to visit and when, tips where to go for good flamenco, etc. We use mostly original maps with the route marked on it. You will also get a voucher for each hotel.
All our routes are designed and checked with care and GPS tracks of many tours are available for your personal use.
 Rental bike
We will handover our rental bikes according to your size, cleaned and revised by a professional bike shop. For most tours you need a bike for unpaved routes. The bikes we use are comfortable mountainbikes with front suspensión, hydro disc brakes and ShimanoDeore is has a pannier rack and it will be delivered with a handle bar bag, a km counter, an extra inner tube and repair kit. We can also provide waterproof Ortlieb panniers. In Spain by law you have to wear a helmet when cycling, you can bring your own or rent it with us. Feel free to bring your own seat or pedals if you feel more comfortable with them!
More and more people are asking for an electric bike, which is of course possible as well. Depending on the route we can rent you a different electric bike. But book the electric bike well in advance, as there is a more demand than offer!
Equipment
We will give you tips what to bring with you for your cycling or hiking tour according the time of the year.